¿Please note: We are on holidays from the 4th Dec until the 29th Dec! If you have any questions or enquiries please email sonya_kc@hotmail.com
Nerja Weddings By Sonya….Your eyes, ears & legs in Spain!
Each year more and more couples are leaving the U.K. & Ireland to marry abroad. In fact most couples have said it was the best decision they ever made and have no regrets. It guarantees good weather, great value for money and a stress free day for all involved. Its the best way to make your day unique and personal…a day to remember, beyond any expectations or comparison.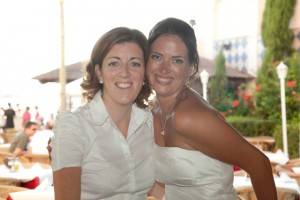 ---
Lorriane & Paul 4/7/08: "Everybody had a fantastic time…..Some of our guests had never been outside Ireland before and were very undecided about going to the wedding at first, but when they were leaving to fly home to Dublin they were saying" imagine if we had missed this wedding it was one of the best weddings we have been too!"

---

Breege and David 25/6/10: "It was the best experience of our lives, we have some beautiful memories and the location was truly magical. Our guests say it was the best wedding they were ever at, in fact everyone is planning to go back for our first anniversary."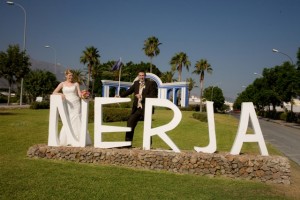 ….and why choose Nerja???
As a location for a wedding, Nerja is perfect. It can offer everything a typical holiday resort can, but its certainly unique. It was originally a small Spanish fishing village but is now a compact town with something for everyone. Located on a cliff edge, overlooking the Mediterranean sea in the south of Spain, its easily accessible, with the nearest international airport of Malaga only 45 minutes away.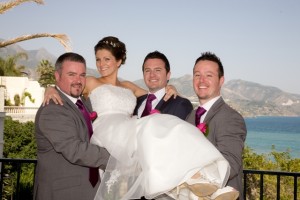 Small cobbled streets with shops, tapas bars and restaurants give it an authentic feel yet a lot of visitors describe it as a home from home. Nearby attractions are golf courses, zoo, waterparks, shopping and sightseeing in the nearby cities of Malaga, Granada and Seville or even skiing for the Winter months. Turn inland by car or by foot to take in some fantastic scenery and wild life. The main beach in Nerja, Burriana beach, also offers a choice of watersports or if you want to relax you can opt for one of the many quieter coves either side of the Balcon de Europa (Balcony of Europe).
The Catholic church, El Salvador, is located on a square on the Balcon de Europa promenade. It has a fantastic backdrop of cliffs, mountains and sea, ideal for your wedding photos. Nerja is unique from many resorts as there is a good choice of wedding venues within walking distance from the church. In fact many brides walk to the church from one of the nearby hotels, without the worry of getting stuck in traffic!
After the church service, next stop is a cava reception by the sea for all your guests. Meanwhile you take a walk along the promenade and have some photos taken. You can even take a stroll down to the beach and pose by the fishing boats or even hitch up your dress and dip your feet in the sea!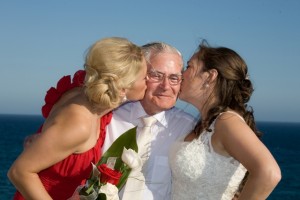 ---
Adam and Ann 7/7/08:"Those of you who are considering getting married in Nerja, go for it now! It is a brilliant place that everyone will love. It can cater for every age group, budget and taste and because it is quite small, it's perfect, as all your guests will be centered around the same area with no-one having to mess about with public transport or even arranging in advance to meet up, you just bump into everyone! Nerja will always hold a very special place in our hearts and we will always have wonderful memories of an amazing wedding there."

---

Paul and Claire 27/8/10: "Nerja is beautiful, we would move there tomorrow if we could. The people are so friendly and accommodating! I really do think it's an undiscovered paradise!"
---
……Why Sonya?
Why choose a wedding planner to begin with? Wedding planners abroad are not the expensive luxury you associate with having a wedding planner back home. For one, they are more affordable and in a foreign country they are a huge help. Someone who knows the language of the local suppliers and how they work, goes a long way! And to have someone based here from Ireland that speaks your "language", even better!
I got married in El Salvador church on 21st May 2005, so who better to plan your wedding in Nerja. I know what it feels like to have your friends and family travel abroad for the special day – the expense and the expectations higher than a wedding back home. The pressure is on to make sure everyone is looked after and have a day to remember, to be talked about for years to come. Most of the suppliers I recommend now, I used for planning my own wedding. I use as many local suppliers as possible – families with shops in the town, who have been in the business for years. They are reliable and offer the best service and price. Its important for you to see who´s going to be behind the running of your perfect day so we make sure to pay them a visit together.
All final decisions are yours. I can step in to help with your budget and give you advice on the choices of the suppliers needed for your wedding day. I dont offer any packages, all my weddings are as unique as you are. You plan your day and I put your ideas together – I am your eyes, ears and legs in Spain.
---
Colin and Susan 24/3/08: "If anyone can keep the Bride and Groom calm Sonya can, We may have hired a wedding planner but we also gained a true friend, Someone that we will always keep in touch with because she made such an impact on our lives, Meeting her for half an hour you go away thinking you have known her all your life."
Robbie and Kim 29/8/10: "It was an amazing day all round and it would not have went as smoothly if it had not have been for Sonya. Sonya is the most organised person and I think she could have a little magic in her somewhere!!!"

---

Declan & Edel 11/12/10: "On the day itself, Sonya was at the hotel long before the wedding began and she was there all day ensuring that all of our guests were happy and enjoying themselves. She helped the staff to serve food and drinks and ensured all day that all of our guests were having a good time."