Click on the photo to see clips from all our 2018 weddings
Nerja Weddings By Sonya….Your eyes, ears & legs in Spain!
Each year more and more couples are leaving the U.K. & Ireland to marry abroad. In fact our previous couples have said it was the best decision they ever made. The good weather, great value for money and a stress free day for all involved are just some of the factors that make it special. Make your day unique and personal…a day to remember, beyond any expectations or comparison.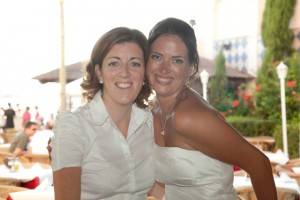 Nerja weddings by Sonya has been organising bespoke weddings in Nerja since 2005 and has helped hundreds of couples tie the knot in one of the most enchanting towns in Spain. We can help you organize everything from the venue through to details like flowers and photography.
Celebrate the most important day of your life whilst on holiday with all your family and friends, enjoying glorious weather, stunning scenery, Spanish hospitality and excellent value for money.
---
Jean & Eddie, 26th October 2018
"From going to Nerja every year I had heard of Sonya and her wedding planning services and she had a fantastic reputation. She was hailed as the best in the business and I wanted only the best. Right from the outset, Sonya gave me the wedding of my dreams. From the initial moment I met her I knew that our wedding was in the best of hands. She was so warm and welcoming I felt like I had known her a lot longer than the 2 minutes I had just met her. But I also knew that she super organised and would have no trouble giving us a polite kick up the bum if needed. 😂 The suppliers were lovely to deal with and you can tell they have a great relationship with Sonya as they really want your day to be the best day of your life".

---
Sinead and Barry, 23rd August 2018
The FIRST VISIT to Nerja to meet Sonya and Mat was so great – I wasn't expecting to receive so much information. We were instantly blown away with her and only after a day in Nerja there was no question on our minds that this was where we were getting married.
**TIPS: My number one tip to all future couples is to LISTEN to your planners!!! Theyre the experts and have your best interests at heart. No-one knows it better than they do. Also be organised for your meetings, you will get more out of them. Don't be hungover! The whole experience for us was just so effortless, stress free, hassle free probably the easiest thing we have ever done. I would do it all again in the morning if I could.

Future advice: If you are reading this feedback then you must be considering getting married in Nerja with Sonya and Matt. JUST DO IT, GO FOR IT!!!! It will be the best thing you have ever done. ENJOY the week and most importantly the day. Make the most of it and don't stress. It will be fabulous and trust your suppliers. They won't let you down. Best of luck all future couples, Sinead and Barry x
---
Laura & Andrew, 26th May 2017

"I'll start by saying our wedding was MORE than we ever dreamed of! Organising is my middle name but u made everything so easy and stress free. U thought of everything and I didn't need to worry about anything."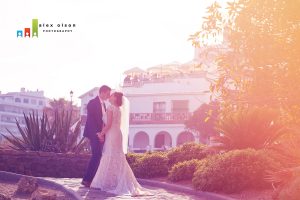 ---
Olivia & Cathal, 3rd June 2017

"There are no words to sum up how grateful myself & Cathal are for all the hard work you and your team have done for us to ensure everything went smoothly. Sonya you are truly amazing and I will tell everyone how great you are at your job!"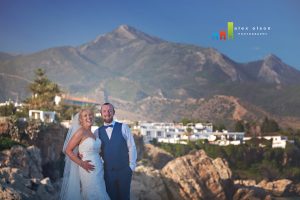 ---
Caroline & Donal, 4th July 2017

"We didn't want the day to end, it was so enjoyable and easy going. Sonya is outstanding with all she does and her team are so experienced in all they do. Altogether, it was a fabulous, magical day and we do it again in a heartbeat."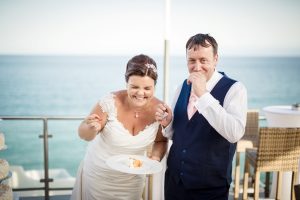 ---
Steven & Vanessa 10/9/16

"The build up to our wedding was arguably as good as the wedding itself!! The excitement is unreal – you're on holiday with the best people in your life counting down the hours until the best day of your life – it really doesn't get much better than that.   You're all beyond lucky to have it all to look forward to. Enjoy. Every. Single. Minute. Sonya, thank you for everything".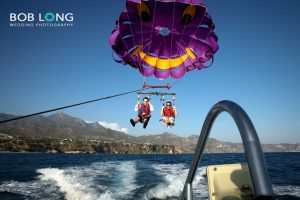 ---
Fiona and Jason 2/7/16

"It is never too early to start planning and the least you have to do nearer the time the better. Sonya is always there to respond to any queries and is always up to date on the time plan for your big day".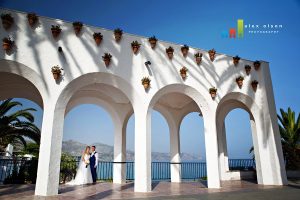 ---
Lisa and Spencer 17/9/16

"From the moment we contacted Sonya, I had no doubt that we had made the right decision. I used to be a wedding planner and Spencer and I have both worked in hospitality for years so our expectations are always high, they were met and exceeded with Sonya and her team….. They truly care about your wedding experience".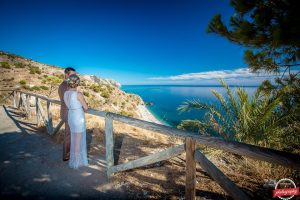 ---
Faye & Rob 1/10/16   

"Just a little note to say thank you so much for making our day so perfect. Thank you to all your wonderful team, we couldn´t have wished for a more wonderful day".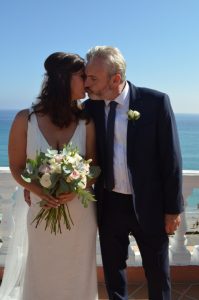 ---
Alan & Lisa 2/10/16 

"Words cannot express how thankful we are to you all for making our wedding day so special. Sonya you are an amazing person + we will never forget you. We will always hold Nerja very close to our hearts".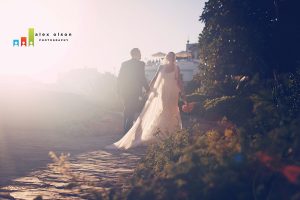 ---
….why Spain?
Sometimes weddings at home can seem like the same old routine with couples spending huge amounts of money to make it stand out and be different. With a wedding in Spain you´re doing something different, something for your guests to look forward to and get excited about rather than "not another wedding." Most of your guests will go on holidays in the Summer so many will make this their holiday and stay for a week or more. Many of our couples come back year after year to celebrate anniversaries and christenings.
…and why choose Nerja???
As a location for a wedding, Nerja is perfect. It can offer everything a typical holiday resort can, but it´s certainly unique. It was originally a small Spanish fishing village but is now a compact town with something for everyone. In the tourism boom of the 60´s Nerja resisted pressure to build high-rise blocks and so managed to retain it´s charm and character as a quaint sea-side town famous for stunning views and cobbled streets. The town is located on a cliff, overlooking the Mediterranean sea in the south of Spain, it´s easily accessible, with the nearest international airport of Malaga only 45 minutes away.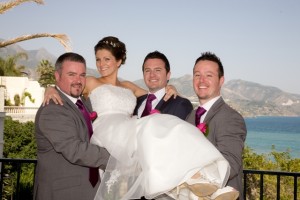 Small cobbled streets with shops, tapas bars and restaurants give it an authentic feel yet a lot of visitors describe it as a home from home. Nearby attractions are golf courses, zoo, waterparks, shopping and sightseeing in the nearby cities of Malaga, Granada and Seville or even skiing for the Winter months. Turn inland by car or by foot to take in some fantastic scenery and wild life. The main beach in Nerja, Burriana beach, also offers a choice of watersports or if you want to relax you can opt for one of the many quieter coves either side of the Balcon de Europa (Balcony of Europe).
After the ceremony, next stop is a cava reception for all your guests. Meanwhile you take a walk along the promenade and have some photos taken. You can even take a stroll down to the beach and pose by the fishing boats or even hitch up your dress and dip your feet in the sea!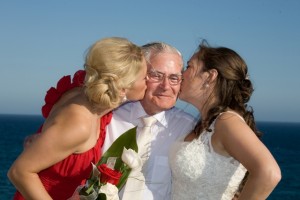 ……Why Sonya?
Why choose a wedding planner to begin with? Wedding planners abroad are not the expensive luxury you associate with having a wedding planner back home. For one, they are more affordable and in a foreign country they are a huge help. Someone who knows the language of the local suppliers and how they work, goes a long way! And to have someone based here from Ireland that speaks your "language", even better!
Many venues and suppliers prefer to work through a planner than deal with the couple direct because we have the knowledge and experience to answer most of your questions without bothering the supplier, freeing them to concentrate on what they do.
For the couple, using a planner is less stressful than having to deal with the suppliers and frees you up to enjoy time with your guests.
---
I got married in Nerja on 21st May 2005, so who better to plan your wedding in Nerja. I know what it feels like to have your friends and family travel abroad for the special day – the expense and the expectations higher than a wedding back home. The pressure is on to make sure everyone is looked after and have a day to remember, to be talked about for years to come. Most of the suppliers I recommend now, I used for planning my own wedding. I use as many local suppliers as possible – families with shops in the town, who have been in the business for years. They are reliable and offer the best service and price. Its important for you to see who´s going to be behind the running of your perfect day so we make sure to pay them a visit together.
All final decisions are yours. I can step in to help with your budget and give you advice on the choices of the suppliers needed for your wedding day. I don´t offer any packages, all my weddings are as unique as you are. You plan your day and I put your ideas together – I am your eyes, ears and legs in Spain.
---
Email: sonya@nerjaweddingsbysonya.com
Tel: (0034) 95 252 76 72 or Mobile: (0034) 652 910 587