WE DO –  TAKE TWO!
As much as we love planning your big "all singing, all dancing" weddings, we are very excited to offer this too!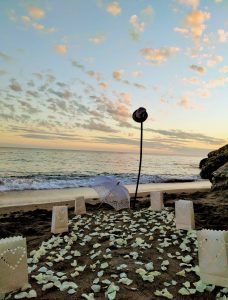 Available from Nov to March. Over the years we have been asked by previous couples (or their parents!) to organise a renewal of vows, as their first experience of a wedding in Nerja planned by us, was so good!
It's a great idea for couples to do by themselves or as a family unit to "re group". A renewal of vows is the perfect gesture to each other to strengthen your bond, celebrate your marriage and make it a more personal event than it was the first time round. If you have had children since your wedding, it's also a very special opportunity to include them in this time!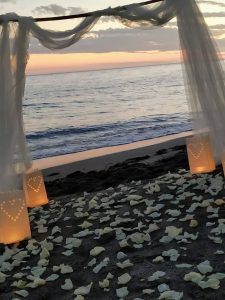 LET'S ELOPE!
An elopement can be very similar to a renewal of vows, in keeping the ceremony low key and intimate.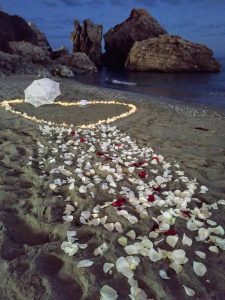 Some couples do find the idea of planning a big wedding very daunting, even with having a wedding planner on board and just can't cope with the thought of it!
If you want to escape the pressure and stress of planning a big wedding and trying to please everyone it just might be your cup of tea! It's a good idea if you just want to keep your ceremony private and still have "your day in the sun" so to speak. You can always plan a big party back home for afterwards!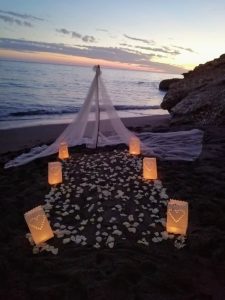 PRICE and PACKAGE
We thought to put a package together for any of you wondering… is this doable for us and how much will it cost??
The plan for this would be totally different from a wedding day, in that you would have a ceremony on a much smaller scale, just for the two of you or perhaps with a handful of immediate family (your children, parents).
The key words used for these types of ceremonies are low key, no fuss, simple, elegant, meaningful, romantic, and without breaking the bank or lots of emails / decisions to make!
The location for this would be confirmed a couple of days before, usually a local beach side or beach view setting. We would use a public space and choose the exact spot where we see fit on the day – just rock up, with a bag full of decor bits and set up there and then, no altar table, no chairs – remember, no fuss!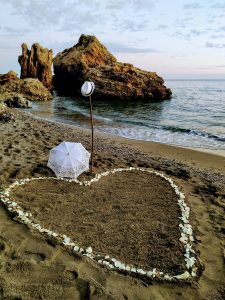 The suppliers used for these packages are chosen and booked by us but we will put them in touch with you direct.
The restaurant will be chosen and booked by you, we can help with some recommendations.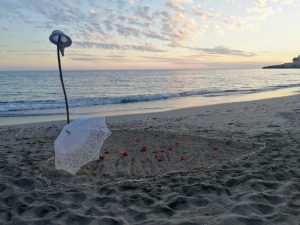 TOTAL cost 845€ – Our packages include:
*Wedding planner for booking all services and on the day coordinator.
*Celebrant
*Photographer for 2 hours, photos will be uploaded to an on line gallery
*Hair and Makeup artist
*Florist – bride bouquet, button hole for the groom, fresh petals for ceremony set up, candles.
*Live guitarist for ceremony
---
Email: sonya@nerjaweddingsbysonya.com
Facebook: https://www.facebook.com/nerjaweddingsbysonya/
Tel: (0034) 95 252 76 72 or Mobile: (0034) 652 910 587
COPYRIGHT © NERJA WEDDINGS BY SONYA 2022. ALL RIGHTS RESERVED
WEB DESIGN BY WEBPAGESPAIN.COM